Welcome to the

Pusateri Fruit Market

We are proud to be part of the Church-Wellesley Village and Business Community since 1966! We proudly support Foodland Ontario and we strive to promote Ontario Fruits & Vegetables when in season. We take enormous pride in offering our customers the best and freshest variety of fruits, vegetables & grocery items… thus our motto… GET FRESH!! Pusateri Fruit Market also gives back to the community by supporting many local charities and deserving causes.
Transfer of Ownership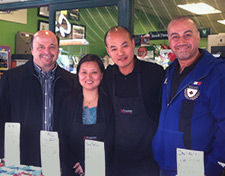 The time has come to Pass on the Torch! Frank and Tony would like to introduce you to Helen and Bin, the new owners of Pusateri Fruit Market! They will continue to run the store under the same name, with the same staff and most importantly, with the same high standards and guiding principles that Joe Pusateri began this business with, over 47 years ago-fresh fruit and vegetables, and superior customer service-going that extra mile for you, our valued customers! We, Frank, Tony, Joe and all staff, would like to thank you all for your patronage and support over the years, and hope you continue to support small independent business! We wish you the very best life has to offer! With Warm Wishes, Very Fond Memories, and Best Regards, Joe Pusateri, Frank Mangione & Tony Cerminara!
Pusateri Supports the Sick Kids Foundation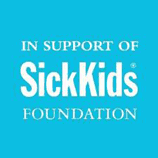 Today, we are proud to announce an initiative which we hold very dear to our hearts, and that is, being named as official donors to the Sick Kids Foundation. In our estimation, there is truly nothing more important than helping those in need & giving back to the community, and we could think of no better way than by supporting an institution like this. We hope you, our wonderful customers, join us on this united front, to provide a helping hand, and make a difference.
Click here to learn more about Sick Kids
Pusateri Fruit Market Turns 45
In June, 1966, Joe Pusateri had a vision to open up a premium fruit and vegetable market in the heart of the Village - a vibrant and dynamic neighbourhood in downtown Toronto! In June, 2011, Pusateri Fruit Market celebrated our 45th Anniversary. We owe our heartfelt thanks to the many, many, loyal customers who have supported us over the years…and here is to another 45 years!
Congratulations!
Pusateri congratulates the Pride Toronto Committee on being awarded World Pride 2014.
Fresh Ontario Produce
As a proud supporter of Foodland Ontario we always have a wide selection of fresh Ontario produce when in season. Please come in now and enjoy the freshness of our many Ontario fruits and vegetables now in season. For more information about Foodland Ontario and their availability guide, please click on their link.
Store Hours
Monday - Saturday: 8:00 AM – 8:00 PM
Sunday: 9:00 AM - 7:00 PM
P: (416) 923-2043

Pusateri Deli Hours
(at the back of the store)
Monday - Friday: 11:00 AM - 6:00 PM
Saturday: 11:00 AM - 3:00 PM
P: (416) 929-7575

Location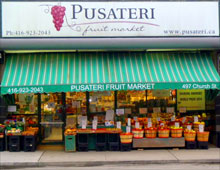 497 Church Street
(Downtown Toronto on the East side of Church St. south of Wellesley)