Our History
The Beginning…
In June of 1966 Joe Pusateri opened Pusateri Fruit Market on 485 Church Street in Toronto. Frank Mangione was also born in June of 1966… Was this a coincidence? No! It was destiny.
A Growing Business…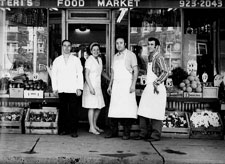 In 1972 Joe Pusateri brought in his brother-in-law, Frank Cosentino, as a business partner. The business was thriving so they decided to move the fruit market to 487 Church Street where they would have more space to meet the growing demand of their customers. The business continued to grow and they moved to their current location at 497 Church Street.
A Great Honor…
In 1992 The Ontario Produce Association presented Pusateri Fruit Market with their Award of Excellence. This award embodied everything Pusateri Fruit Market stood for, from their excellence in customer service to their excellence in product quality. This award was a true testament to the hard work of Joe Pusateri and every other employee in the store. 
The end of an era & the beginning of a new one…
After thirty years in the business Joe's brother-in-law retired in 2003. Frank Mangione a long time employee and son-in law of Joe Pusateri became a Partner in the business. Frank Mangione has taken great pride in hand selecting the finest and freshest produce for his customers for years. 
The Garage Sandwich Co.…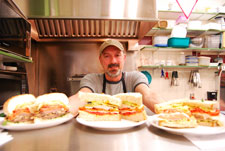 In 2005 Randy Filby and "The Garage Sandwich Co." moved into the Pusateri Fruit Market.

In 1998 "Toronto Life Magazine" awarded "The Garage" with "The Best Of the City Chili!"

Now Magazine makes Pusateri # 1…
In 2005 Now Magazine named Pusateri Fruit Market the best produce store in the city. This award speaks volumes on the excellent customer service, wide selection and overall quality of products Pusateri Fruit Market offers. This award is also a testament to the hard work and dedication of Frank and his team.
Here Comes Tony Cerminara …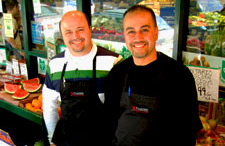 In November of 2007, after 41 years in the business, Joe Pusateri retired. At that time Frank Mangione brought on Tony Cerminara to be a partner in the business.
45 Years Strong ...
In conjunction with the 45th Anniversary of the store, we have made some very exciting changes. The most exciting of these changes is a revamped Kitchen (located at the back of the store), and the transformation of The Garage into a Hot Table. In addition to offering many of your favourite Garage Sandwiches and Soups we now offer an exciting variety of tasty Hot Foods, Grilled Panini, Yummy Home-made Salads, and ** NEW** Fresh Grain-fed, Free-Run Roasted Chickens, available after 2 PM Daily.
Passing on the Torch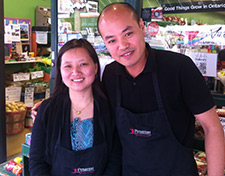 In September 2013, Tony & Frank made the difficult decision to sell the business and transfer ownership to Bin Lin & Helen He. As new owners they are committed and excited to keep up the tradition of the Pusateri name and the product offering.
New Owners!
We are proudly introducing Linda and Chin, the new owners of Pusateri Fruit Market! They have plenty of experiences with many types of businesses including markets. They will serve the community with high product and service quality like the former owners had always done. New goods will be introduced and we will have larger range of products. Thank you all for supporting Pusateri throughout this time and hopefully you will continue to support us while we put all our efforts to bring convenience to you.